Three Nominations!
Detroit Music Awards!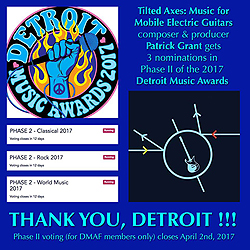 More iNFO HERE














judith malina
eureka
edgar allan poe
living theatre theater

nEWS - updated 20 MAR 17

TILTED AXES
Music for Mobile Electric Guitars

fACEBOOK - social

eMAIL - contacting

sTRiNGS and tHiNGS - podcast




www.strangemusic.com


All rights reserved © Patrick Grant / Strange Music

Strange Music and sTRANGEmUSIC are trademarks and service marks of Strange Music Inc.