www.patrickgrant.com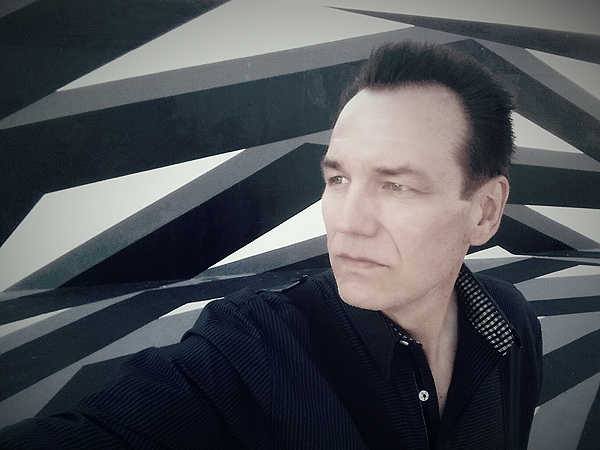 CV 2018

MMW profile of Patrick Grant HERE
Read the Metro Times cover story HERE
Exploring the Metropolis' interview with Patrick Grant HERE

Grant's distinct sound has "...a driving and rather harsh energy redolent of rock, as well as a clean sense of melodicism ... the music's momentum and intricate cross-rhythms rarely let up, making the occasional infectious tunes that emerge all the more beautiful for surprise." - The Village Voice

"... a modern electronic master...(he) is a totally wired contemporary musician who combines live performance with cutting edge technology." - New Music Connoisseur

"I've lived in the neighborhood for 22 years and I've never seen anything like this," a passerby said as Patrick Grant and his small platoon of electric guitarists and percussionists filed into St. Mark's Church on East 10th Street. - New York Times

PATRICK GRANT is a composer/performer living in New York City and creates music for a wide range of media. A native of Detroit, MI, he moved to NYC in the mid-80s where he studied at the Juilliard School, worked on the production team for composer John Cage, and produced his first recordings at the studios of Philip Glass. He spearheaded the compositional element of an international project for the Millennium which had him working with Billy Joel and Quincy Jones. Interest in world music brought him to Bali three times to study the gamelan which manifested itself in his work through the use of alternative tunings, ensembles with multiple keyboards, and in his work with Robert Fripp (King Crimson, Brian Eno, David Bowie) & The Orchestra of Crafty Guitarists. He was host of the internationally acclaimed podcast Strings and Things. He is an adjunct faculty member of the Film School at NYU Tisch School of the Arts.

Grant is a recipient of the 2012-13 Con Edison Musicians' Residency: Composition Program at the Turtle Bay Music School administered by Exploring the Metropolis. In 2012, 2013, and 2014 he received ASCAP Plus Awards for continued musical excellence. Recently, he performed as music producer and co-arranger of NYFA Fellow Joseph Keckler's "I am an Opera" for a month of sold-out shows at Dixon Place in NYC.
He is the creator of International Strange Music Day (Aug. 24th) and the 'electric guitar procession' as a genre. Recently he was granted rights from the Beatles' publishers to create a set of variations on Strawberry Fields Forever for chamber ensemble and rock band.
He has created scores for theatrical visionaries The Living Theatre and Robert Wilson, and music for installations at the Louvre and the musée du Quai Branly in Paris. His music has been applied visually through seven collaborations with the artist Kehinde Wiley, scores for feature documentaries, and music tech seminars each semester at the NYU Film School.

Within the last year his music has been performed extensively by theater troupes in Brazil, appearing in the major cities and international festivals there. In 2009, with radio producer Jocelyn Gonzales, he created the MMiX Festival of Interactive Music Technology in NYC, an event co-sponsored by Ableton (LIVE 8), Cycling '74 (Max/MSP), and WNYC Radio.

In December 2009, he music directed the European premiere of his electronic realization of the Morton Feldman/Samuel Beckett opera "Neither" in Vienna. In 2010, Grant returned to Europe and Brazil for new works in concert, theater, and multimedia and created H2Opus: Fluid Soundscapes by Multiple Composers for Make Music New York 2010. Grant also produces content for the new music blog The MMiXdown.

He has created musical scores for the Cornell Gamelan Ensemble and the Margaret Jenkins Dance Company in San Francisco (a piece called "the strangest and most ravishing dance of the year" by the SF Chronicle and nominated for Best Dance Score of 2003 by the Isadora Duncan Dance Awards). His work often involves elements found in the natural and physical sciences (Genome: The Autobiography of a Species).

He has been commissioned by the CUNY Graduate Center (BIG BANG 1.0), jointly by the artist Kehinde Wiley (for soprano Shequida), Deitch Projects (Rumors of War), and The Columbus Museum of Art (Historical Black Music Rollercoaster), and the Modern Museum of Fort Worth.

His works have been performed at the Bang on a Can Annual Marathon, MATA - Music at the Anthology, by Gamelan Son of Lion, The CUNY Graduate Center's Science & the Arts series, and the Forum Freies Theater in Germany.

As a presenter, Mr. Grant has produced scores of new music concerts in the alternative spaces of New York City, in art galleries, theaters, factory lofts and clubs, since 1988. He formed his own ensemble, the protean Patrick Grant Group, in 1998.

He is founder and artistic director of Strange Music Inc., an organization dedicated to releasing recordings and presenting compelling new work with performances and installations in New York and around the world. He formed Peppergreen Media in 2011 as a way of broadening music's reach into other media.

http://www.peppergreenmedia.com

==============================================================================