https://www.facebook.com/tiltedaxes/

It was thrilling that "A SEQUENCE OF WAVES" and two of its tracks,
"One Note Samba" & "Seven Years at Sea," were entrees
in the 61st ANNUAL GRAMMY AWARDS.
Thank you for your votes and support!


A SEQUENCE OF WAVES
(twelve stories and a dream)
from the creator of Tilted Axes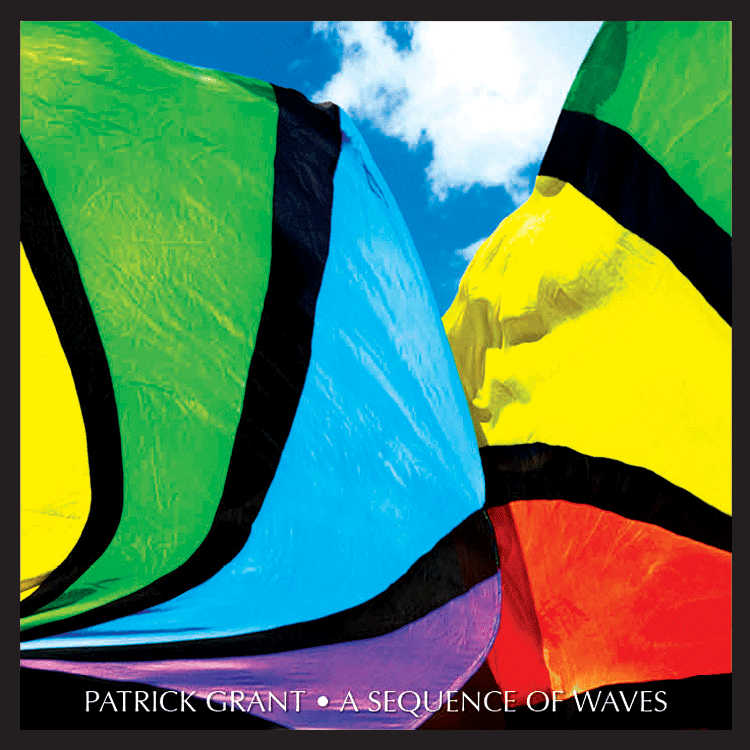 Amazon Digital Music - iTunes & Apple Music - Google Play - Spotify - Bandcamp - Tidal

UPDATED JANUARY 2019: * Preview - Progressive Tracks KPTZ-FM * Review - Midwest Record * Review - The Huffington Post * Review - Alternative Nation * Review - San Francisco Classical Voice * Interview - It's Psychedelic Baby Magazine * Review - Discogs * Interview - Echoes and Dust (UK) * Review - Progressive Music Planet * Review - Sensible Reason * Review - For Folks Sake * Review - Album of the Year * Review - EKM.CO * Review - WPGM London * Review - Contemporary Fusion Reviews * Review - Screaming Guitars * Review - The Celebrity Cafe * Review - Your EDM * Review - Gig Soup * Review - Obscure Sound * Review - Ellen Wood EP * Review - New Prog Releases * Review - Floorshime Zipper Boots * Review - Tattoo * Review - MaxxxwellC YouTube Review * Review - The Ripple Effect * Review - Audible Addixion * Review - Short and Sweet NYC * Review - Music Street Journal * Review - Altered Frequencies * Review - Rock Expert * Review - Metal Express Radio * Review - Paper Blog France * Review - Movie DB * Review - Abort Magazine * Review - Indie Music Review * Press - Discipline Global Mobile * Review - Music News UK * Review - Sputnik Music * Review - Now Hear This * Review - Monoblogue Music * Review - The Big Takeover * Review - Short and Sweet LA * Review - Frequency Horizon * Review - New Sick Music * Review - Tilt Mag * Review - East Coast Rocker * Review - Ear Tapas * Review - All About Jazz * Best Albums of 2017 - NBT Music Radio * Review - Punchland * Review - Prog Is Alive And Well * Interview - Fireworks Magazine * Review - Sputnik Music (2) * Interview - GroundSounds * Interview - The MMiXdown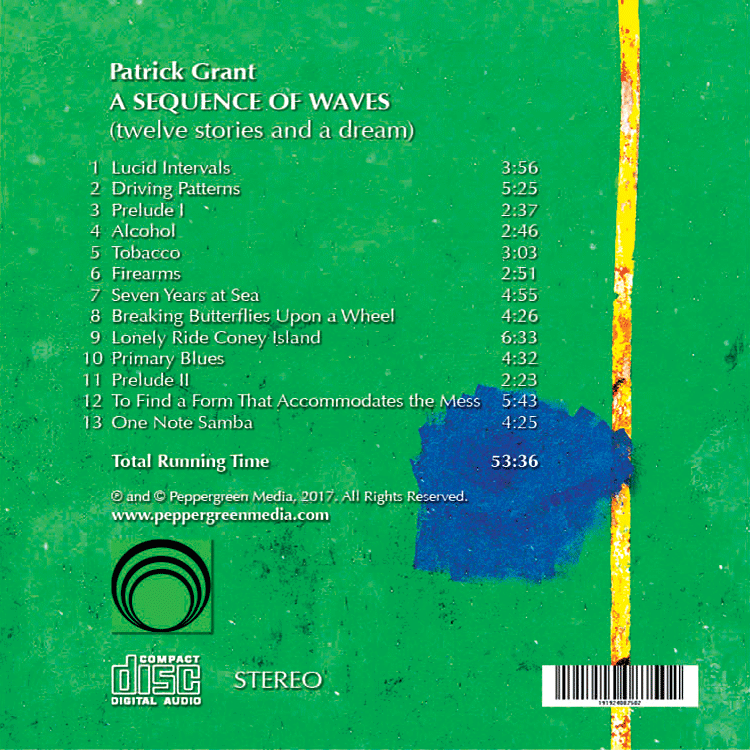 Patrick Grant
A SEQUENCE OF WAVES
(twelve stories and a dream)
Patrick Grant: guitar, bass, viola, piano, keyboards and percussion
John Ferrari: drums, mallet instruments and percussion
Nick Didkovsky: guitar solo on "Primary Blues"
Dan Cooper: 7-string electric bass
Lynn Bechtold: violin
Dan Barrett: cello
Recorded at John Kilgore Sound NYC, the NYU Film School, Peppergreen Media NYC, and the Ferrari Factory NJ
Album mixing engineer and recording engineer for Kilgore sessions: Garry Rindfuss
Recording engineer for NYU Film School sessions: Jocelyn Gonzales
Mixed at Mercy Sound Studios NYC
Mastered by Sheldon Steiger
Produced by Patrick Grant
Prepared piano samples on "Lucid Intervals" were created separately by David Borden (Mother Mallard's Portable Masterpiece Co.) and generously supplied for further manipulation here.
The vocal track for "Sevens Years at Sea" (Sept Ans Sur Mer) is from "A Treasury of Library of Congress Field Recordings" (Rounder Records 1500) and is now in the Public Domain. It was recorded by John and Alan Lomax in Louisiana in 1934, and is sung by Elita, Mary, and Ella - the Hoffpauir Sisters.
The field samples and tuned sounds on "One Note Samba" were recorded for this project in New York City and in São Paulo, Brazil.
All titles on this album are by Patrick Grant and published by Peppergreen Media (ASCAP) except for "One Note Samba" by Antônio Carlos Jobim and published by Universal Music. Licensing for this recording is provided through the Harry Fox Agency.
Guest soloist Nick Didkovsky is a guitarist, composer, and band leader.
Album photography: Bob Krasner
Album graphics and layout: Eric Iverson
Peppergreen Media logo: Steve Ball
Thanks and acknowledgements: ASCAP, Gary Beeber, Composers Concordance, The Coney Island Film Festival, D'Addario Strings & Planet Waves, Electro-Harmonix NYC, O Festival Música Estranha, The Film School at NYU Tisch School of the Arts, Robert Fripp, The (formerly known as) Guitar Circle of North America, Independent Music Promotions, Korg USA/Vox Amps, James Moore, James Gill (Mercy Sound), Milica Paranosic, Gene Pritsker, Tom Redmond, Som do Brasil on WKCR, Preston Stahly, Kathleen Supove, Tribeca New Music, and Tiny Orchestral Moments (Seattle)
℗ and © Peppergreen Media, 2017. All Rights Reserved.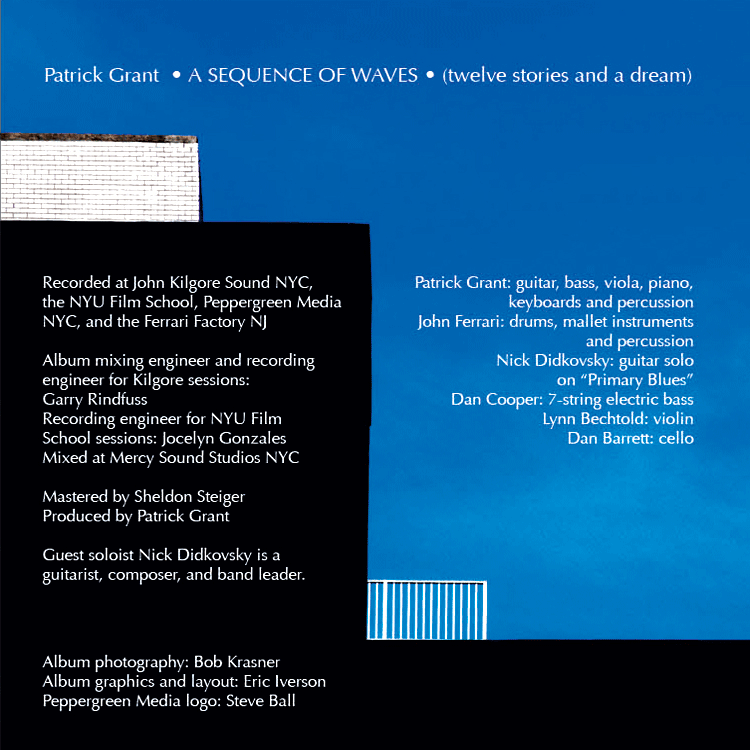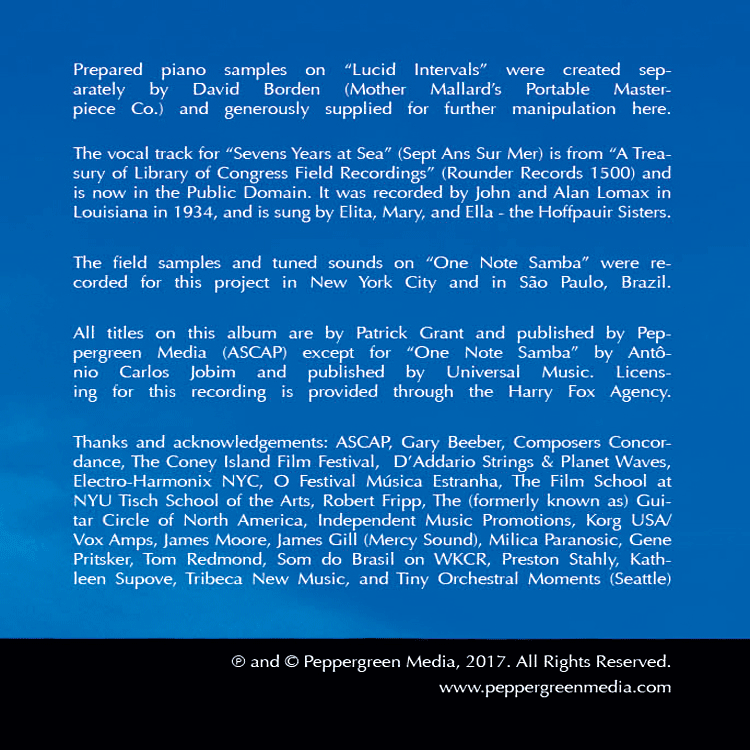 www.peppergreenmedia.com

#rock #classical #jazz #prog #postprog #chamberprog