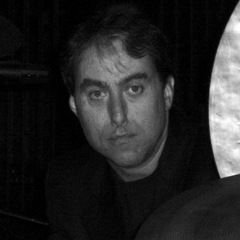 JOHN FERRARI
John Ferrari enjoys a multi-faceted career as a versatile classical and hand percussionist, drummer, conductor, and educator in the New York area. He is a founding member of the Naumburg Award winning New Millennium Ensemble and is drummer/percussionist for Meridian Arts Ensemble-Brass & Percussion. Frequent recipients of the ASCAP/CMA Award for Adventurous Programming, both groups have collectively released ten critically acclaimed recordings. Between these groups and others he has toured extensively as both performer and clinician in the U.S., Europe, Mexico, Central and South America, the Caribbean and Asia.
Ferrari is a frequent guest artist of the Chamber Music Society of Lincoln Center and Chamber Music Northwest, and has performed and recorded with most notable chamber-music organizations around New York, including: Bang On A Can All-Stars, Columbia Symphonietta, Cygnus, Da Capo Chamber Players, Empire Brass, Gotham Simphonietta, The Group for Contemporary Music, Locrian, New Band, New Jersey Percussion Ensemble, New Music Consort, Orion and Peterson String Quartets, Parabola with composers Carter Burwell and Stephen Endelman, Patrick Grant Group, Perspectives Ensemble, Riverside Symphony, SEM, Sequitur, Solisti New York, and Talujon Percussion Quartet.
Musically active in chamber, orchestral, pop, jazz, Broadway, dance, film and television, he can be heard on the Albany, CRI, Centaur CGNJ, Channel Classics, Koch International, New World, Santa Fe New Music and Strange Music record labels. Mr. Ferrari holds DMA and MM degrees from SUNY Stony Brook, and a BM from William Paterson University in New Jersey where he has been on the performing arts faculty since 2002.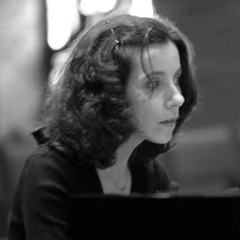 MARIJA ILIC
Marija Ilic is an active performer of the traditional repertoire and new music in New York City and has been praised as a "clear and decisive musician," "compelling," and "poetic" by The New York Times. Her recent performance highlights include recitals with violist Lawrence Dutton of the Emerson String Quartet at the Smithsonian Institute in Washington, D.C., as well as in Bronxville, New York, and Westport, Connecticut. Past performances include recitals at Weill Recital Hall at Carnegie Hall, Musica Viva in Belgrade, the Clark Studio Theater at Lincoln Center, the 92nd Street Y, as well as the Music Festival of the Hamptons, the Aldeburgh Festival in England, the Norfolk Contemporary Music Festival, Music at Concordia, and Trinity Church.
Ms. Ilic has worked with composers Martin Bresnick, George Crumb, Oliver Knussen, Joan Tower, Vykintas Baltakas, Meredith Monk, and John Patitucci, among others. She has collaborated with the National Theater of the United States of America on their productions Chautauqua! and What's That on My Head?, with choreographers Ariane Anthony, Rachel Cohen, and Rajika Puri, and she is a member of the Patrick Grant Group and Dan Joseph Ensemble. She is the founding principal pianist of Christopher Caines Dance Company, with which she has appeared regularly since 2000.
A native of Belgrade, Serbia, Ms. Ilic holds degrees from the Belgrade Music Academy and the Mannes College of Music, and a doctorate in piano performance from Rutgers University. Her piano teachers include Susan Starr, Pavlina Dokovska, Nina Svetlanova, Stephanie Brown, and harpsichord master Kenneth Cooper. She can be heard on New World Records, Mutable Music, and Silent Treatment Music labels. Ms. Ilic is on the piano faculty of Concordia Conservatory in Bronxville, NY, and maintains her private teaching studio in New York City.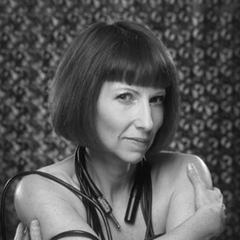 KATHLEEN SUPOVÉ
Kathleen Supove is one of America's most acclaimed and versatile contemporary music pianists, known for continually redefining what it means to be a pianist/keyboardist/performance artist in today's world. In addition to her compelling virtuosity, she is also known for her boundary-breaking ways of breaking the wall between performer and audience. After winning top prizes in the Gaudeamus International Competition for Interpretation of Contemporary Music, she began her career as a guest artist at the prestigious Darmstadt Festival in Germany. Since then, Ms. Supové has presented solo concerts entitled The Exploding Piano, in which she has championed the music of countless contemporary composers—minimalists, post-minimalists, and experimentalists.
The Exploding Piano has become a multimedia experience by using electronics, theatrical elements, vocal rants, performance art, staging, and collaboration with artists from other disciplines. This has taken on several different dimensions. First, Ms. Supové has been commissioning and presenting a new repertory of works for piano and electronics. Secondly, she has been presenting a number of Concert Theater works, most notably the evening-length staged piece for singing/reciting/moving pianist called Jitters, (music by Randall Woolf and texts/directing by Valeria Vasilevski). Furthermore, her Exploding Piano concerts almost always have original monologues and theatrical sketches surrounding the pieces. Kathleen is a featured performer in the Summer 2000 issue of Yale Theater Journal, which is devoted to Concert Theater. In 2001, she was made a Yamaha Artist and is working on a long-term project of commissioning a body of works for Yamaha Disklavier. She has done dance collaborations with The Bill T. Jones/Arnie Zane Dance Company, Susan Marshall and Co., Heidi Latsky, and Nami Yamamoto. Ms. Supové has received commissioning and production grants from Meet The Composer, Mary Flagler Cary Charitable Trust, The Greenwall Foundation, Aaron Copland Fund for Music, and American Composers Forum, among others.
She has appeared with The Lincoln Center Festival, The Philip Glass Ensemble, Bang On a Can Marathon, Music at the Anthology, Composers' Collaborative, Inc., and at many other venues, ranging from concert halls such as Carnegie to theatrical spaces such as The Kitchen to clubs such as The Knitting Factory and The Cutting Room. She is currently an artist-in-residence at The Flea Theater in NYC, where she regularly presents her newest Exploding Piano concerts each season. Recently, she was a featured performer in two prestigious festivals: The Ussachevsky Memorial Festival (Pomona College, Claremont, CA) and the NIME Festival (New Interfaces for Musical Expression) in New York City.
In 2004, Ms. Supové released Infusion on the Koch International Classics label, featuring four contemporary solo works for piano and electronics. It is available through CDBaby, iTunes, and other digital sales outlets. Other recordings can be found on the Tzadik, CRI, Innova, New World, Neuma, Bridge, Centaur, OO, and XI labels. Besides being a soloist, Kathleen is a member of the art-rock band Dr. Nerve. She also curates Music With A View, a free music + discussion series at The Flea Theater.