TILTED AXES DETROIT: NEW AGAIN
music for mobile electric guitars
performers and participants


March 20, 23, & 24
Complete Event iNFO
TBA
HERE
READ >
Tilted Axes interview in Ultimate Guitar
READ >
The original Metro Times cover story
LISTEN >
Tilted Axes Album
& Press Page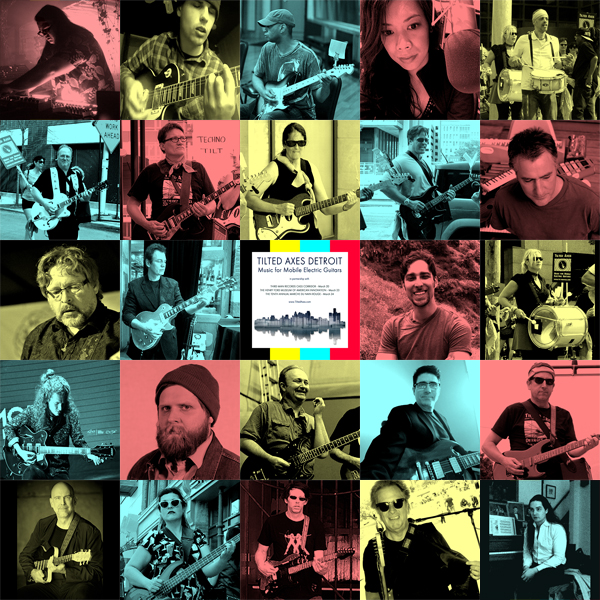 Patrick Grant (electric guitar) is a Detroit-born composer living and working in New York City. His works are a synthesis of classical, popular, and world musical styles that have found place in concert halls, film, theater, dance, and visual media internationally. His music moves from post-rock and classically bent post-minimal styles, through Balinese-inspired gamelan and microtonality, to ambient, electronic soundscapes involving many layers of acoustic and electronically amplified instruments. He is the creator of International Strange Music Day (August 24) and is the inventor of the electric guitar procession.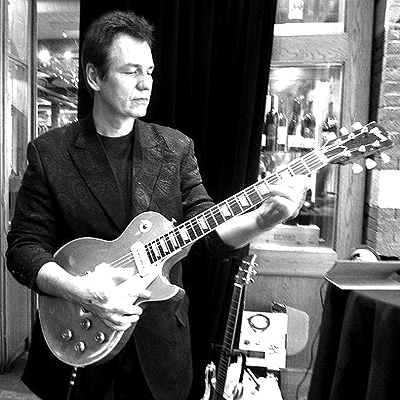 photo credit: Nels Cline


Skeeto Valdez (groove leader) has been called a "force of nature!" - a "diesel truck, rollin down the rhythm freeway!" - and for many years simply referred to as "Skeetosis!" He had an idea to create a forum to jam with his many musical friends and dubbed it The Mighty Funhouse with the simple premise of having a ball while playing great music. The name of the band has since changed to The Valdez Collective. ~ PS: He be winnin awards and sheet! ~ PPS Jr.: Pay no attention to any of this nonsense!!!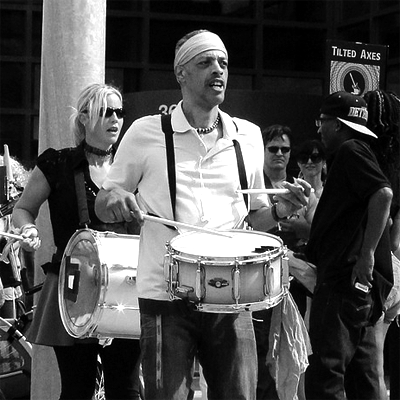 Frank Pahl (baritone ukelele) The music of Frank Pahl appears on over 100 recordings ranging from toypop to jazz. For the past thirty years he has survived on writing music for theater, film, and dance and he is a Kresge Fellow in Sound Art. His current groups are Little Bang Theory (toypop), Scavenger Quartet (jazz-ish) and The Lovely and the Wretched (chamber). His passion for the last 10 years has been accompanying silent films with Little Bang Theory.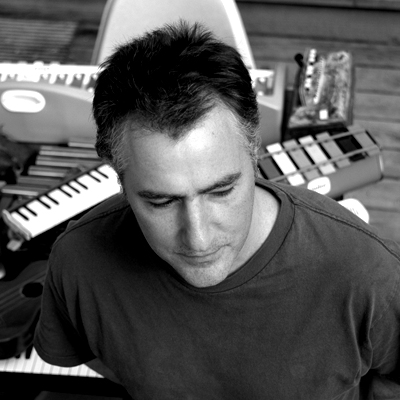 photo credit: Doug Shimmin


Jeff Adams (electric guitar) brings attitude and a skillful style to any project he works on. His experience and developed sound, adds a distinctive style and approach to his projects. His style is reminiscent of where progressive rock started and what it can become and he maintains a deep and personal relationship with his audience. His style is very identifiable as when you hear the beginning of an 11:21 song, you know its Jeff. He is currently an integral member of The Dirk Kroll Band out of Detroit. Jeff participated in Tilted Axes Detroit in 2013, 2014, 2015.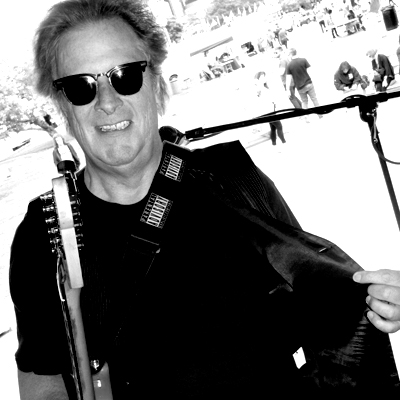 Zac Bru (percussion) is a multi-instrumentalist, composer, and sonic proselytizer. As head of the Detroit Bureau of Sound, Zac Bru uses experimental music to create multisensory experiences, one of which was described as "sounding as raw as mating bull elephants" (Lansing City Pulse on "X is for Xenakis," 2013). He has brought two productions to Red Bull Arts Detroit (John Cage Rave, and Rejecting Reality) and has appeared at the Detroit Institute of Arts with curated programs of percussion music alongside featured artists from Ghostly International (Matthew Dear and Shigeto). More information at DetroitBureauofSound.com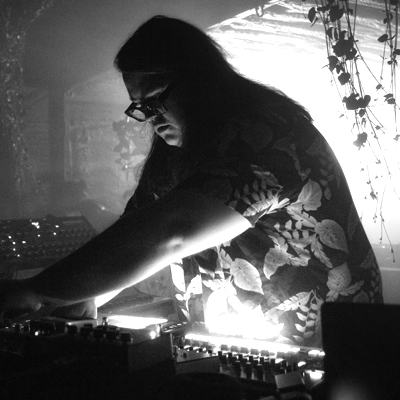 Aileen Bunch (electric guitar) is a professional musician from the Philadelphia area. A board certified music therapist and music educator, Aileen is a multi instrumentalist, and plays numerous keyboard, woodwind, string, and percussion instruments fluently. She earned her bachelors of music (piano and music therapy) from Temple University and completed her master studies in Music therapy at New York University. For more than 22 years she has been on the faculty of Settlement Music School in Philadelphia, and has performed near and far both solo and with Tiny Orchestral Moments, The Orchestra of Crafty Guitarists and Tilted Axes.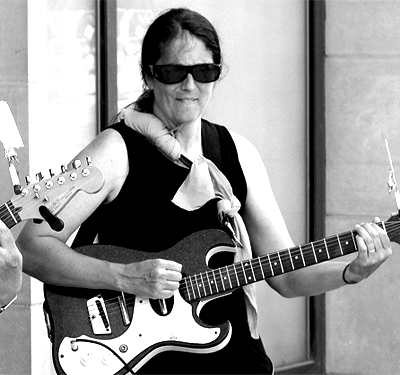 Aaron Butler (electric bass & percussion) is a multi-instrumentalist, composer, and educator. When not performing or teaching, he enjoys cheap beer, mid-shelf bourbon, and early nineties R&B.  www.aaronmichaelbutler.com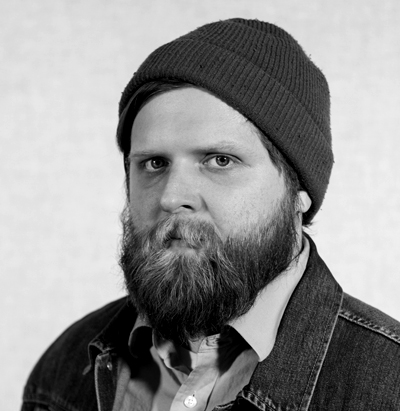 Jude Closson (electric guitar) plays drums and guitar and has been working with bands in the Detroit area for over three decades. Jude started as a drummer and has worked with many groups ranging from early New Wave and Punk groups to the present day Celtic Rock group Bill Grogan's Goat. As a guitarist he has worked with a variety of rock and folk acts and is presently playing in the traditional Celtic group Seacht.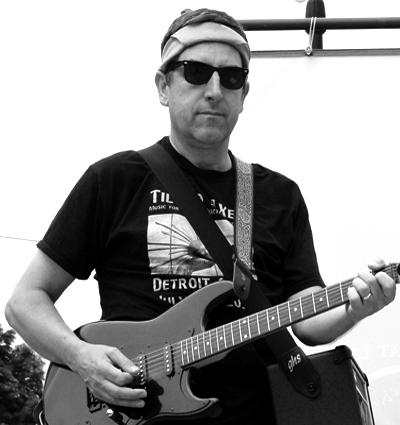 Alex Durante (electric bass) plays bass, drums, and the Chapman Stick. He was born and raised in New Jersey but currently works as research assistant in Washington, DC at the Federal Reserve Board. His musical interests span many genres, everything from heavy metal to funk.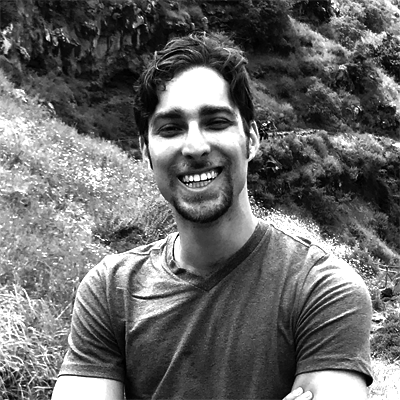 Jeff Georgas (electric guitar) is a Canadian Engineer who lives in Brighton Michigan. His interests are rooted in 60s and 70s rock.  He is currently writing folk music relevant to surviving the corporate grind.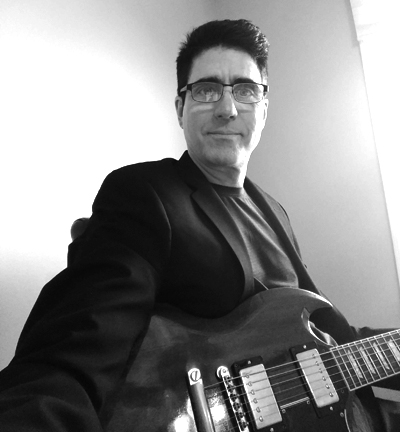 Jocelyn Gonzales (associate producer) is Executive Producer of the Peabody Award-winning radio show and podcast, Studio 360 from PRI/PRX and Slate. She's a producer, engineer, and editor for public radio, audio publishing and podcasting. At The NY Times, she produced the weekly Popcast, Book Review, and Times Insider podcasts. She produced The Mash-Up Americans podcast at American Public Media, the science and medicine podcast Signal, and she is a sound designer for How It Is, a podcast from Hello Sunshine. She taught sound design for film, TV and new media at NYU's Tisch School of the Arts for nearly 14 years.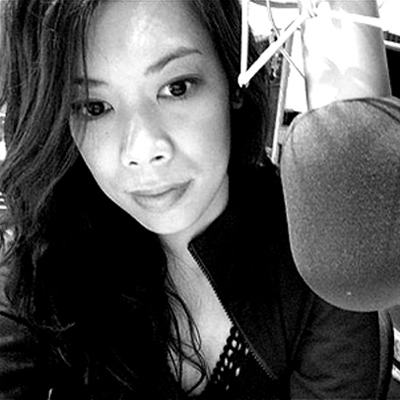 Christoph Götzen (electric guitar) is a German musician, currently living in Düsseldorf. His musical career started within the genres of pop/rock music. After living abroad and getting new inspiration in Melbourne, Australia he started to study and focus on jazz music, deeply rooted on improvisation, doing live ambient sessions and combining different kind of sounds in his compositions.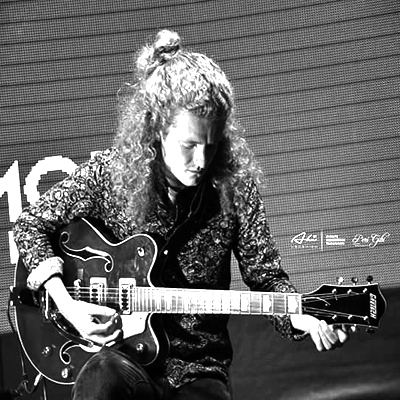 Erik Grant (electric guitar) is originally from the Detroit area but bounced around living in several countries before boomeranging back to the Detroit area. His time spent living in Texas formed a love for country music which he still wastes most of his time on but his origins in rock and alternative rock is something that he still can't shake.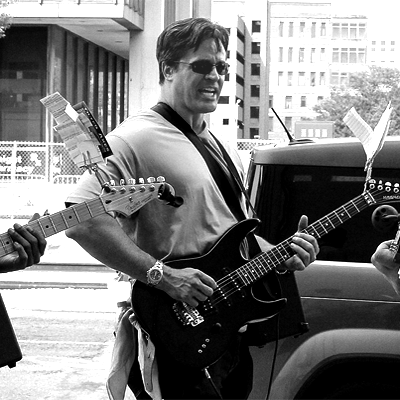 Gael Grant (percussion) has been involved with Tilted Axes since 2013: twice as Tilt Manager and twice as a drummer. This will be her third time tilting in Detroit. 3 is the lucky number. She has played multiple instruments since she was very young and has been an active participant with musicians. "Nothing compares to the element of surprise with music and I look forward to more surprises." And the beat goes on...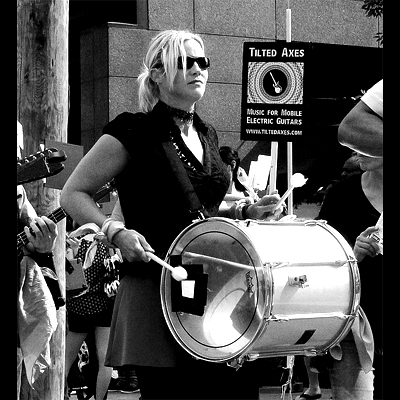 John Halo (electric guitar) was born in Brooklyn in the mid-eighties. He did his undergraduate work in Music Theory at The Macaulay Honors College @ Hunter College and his graduate work in Composition of Modern & Contemporary Classical Music at The Aaron Copland School of Music @ Queens College. A multi-instrumentalist and vocalist, he's currently performing in NYC as a member of three groups: Downtown Equipment, Rinse, & Bob of The Shirts. Halo is music and mathematics teacher at Brooklyn's Neighborhood Improvement Association (NIA) in South Brooklyn.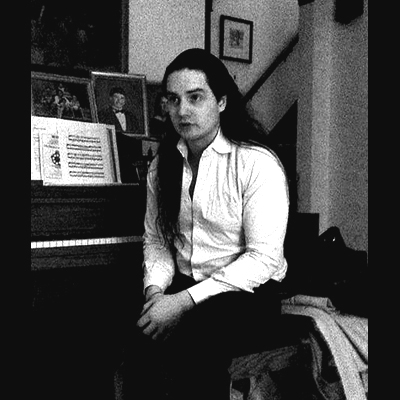 Bob Kaufman (electric guitar) The Bob Music Story: "I have to give a lot of credit to all my older sisters for their collection of 45s and albums growing up. My sister Ann bought me my first guitar for Christmas when I was 14. Music is such a beautiful and collaborative activity and I am fortunate to have met and jammed with so many people. I met Patrick Grant in high school and he really expanded my appreciation of different kinds of music. I have been in several bands playing both guitar and bass: Fester, The Knaves, Groovy Guru, Calcutta Rugs, and The Covingtons."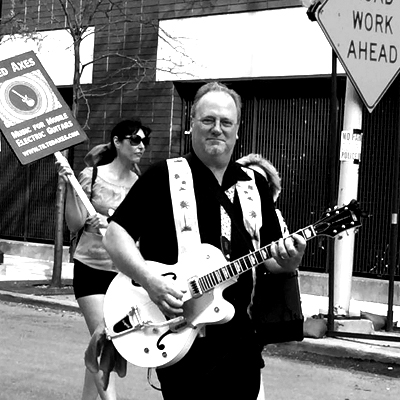 Rob Knevels (stage manager & percussion) was born a Metro Detroiter in the spring of 1972. Since then he has joyously participated in many musical happenings and with many outfits. Robert has been lucky enough to become a lifetime ambassador to Kelley Stoltz and His Band, surviving several semi-world tours with Stoltz and his comrades. He loves sports, and plays a variety of musical instruments and practices everyday.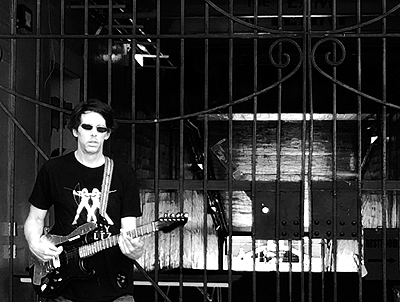 James Keith La Croix (electric guitar) "Diverse" describes writer, musician, sound engineer, and multimedia artist James Keith
La Croix's background and career. Raised in a household where the record changer was eclectically stacked, he studied guitar and later picked up bass and drums which he's played in a variety of bands in New York City, Sweden, and his home town, Detroit. He studied recording engineering and went on to record artists from Afrika Bambaataa to Zeena Parkins before touring the world as the instrument tech for Stanley Jordan. James is a published writer and his multimedia pieces have been shown in juried art exhibitions.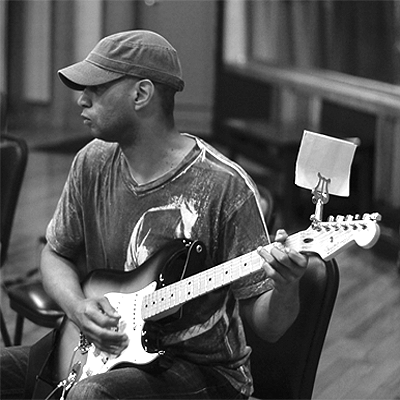 John Lovaas (electric guitar) John's interest in guitar began in 1978; playing became practice in 2007, after his first Guitar Craft course. He participated in Guitar Craft and Guitar Circle projects in the United States, Mexico, Argentina, Spain, and Italy.  He has participated in a number of past Tilted Axes projects in Detroit and New York.  He lives and works in Woodstock, Illinois.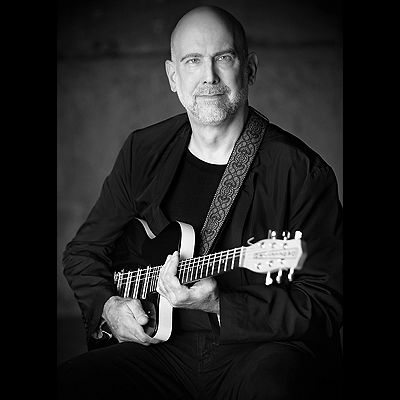 James McGlinnen (electric guitar) is a member of groups in Kalamazoo, Detroit, and Ypsilanti areas, including: Tavia Control, Eclectic Smudge, 360DLX, Deaf Mute, John Frum and The Isotones. He is currently a member of Ben Miller's Sensorium Orchestra of Detroit. Alumni of both Rhys Chatham and Glenn Branca's expanded ensembles, and participant in Master Classes conducted by Wadada Leo Smith and Elliott Sharp. He lives (mentally and physically) halfway between Detroit and Ann Arbor with his wife Christine McDermott, their daughter Emma Christine, and their cat Rosey Pooh. Participated in Tilted Axes Detroit in 2013, 2014, & 2015.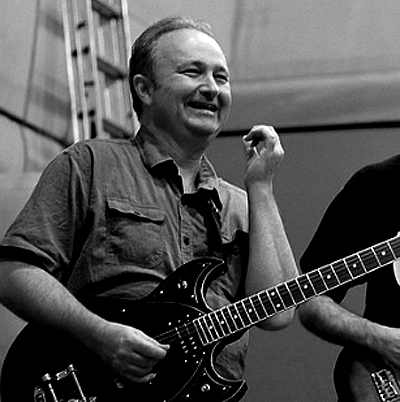 Chris McGorey (electric guitar) After putting in some time as bassist for the adventurous Detroit ensemble Mr. Unique and the Leisure Class, Chris switched to guitar, began writing songs and formed the stripped-down but eclectic trio Dog Latin. Through the years Dog Latin has prevailed with various lineups, appearing at venues such as Jazz Café Detroit, The Blind Pig, Trinity House Theater, and Cadieux Cafe, to name a few. McGorey has also participated in the February Album Writing Month (FAWM) songwriting challenge, and has performed in every Tilted Axes Detroit event to date.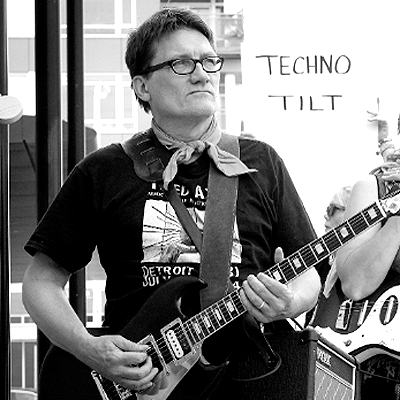 Sarah Metivier Schadt (electric bass) is a multi-instrumentalist and soprano who splits her time between Tilted Axes, the League of Guitarists, several church choirs, and the Berlin Guitar Ensemble. During the rare times she's not traveling for workshops, rehearsals, and gigs, Sarah lives and gardens in far northern Illinois with her husband and two cats.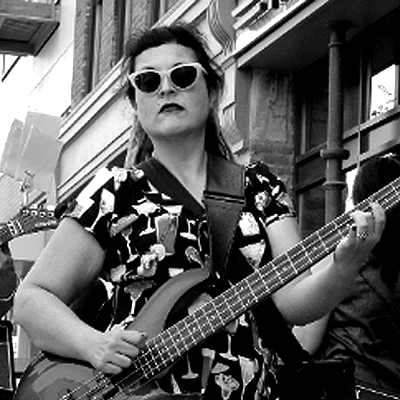 Christopher Simpson (electric guitar) is currently attending Wayne State University for a Bachelor Degree in Music  for Music Business. His main concentration and principal instrument is jazz guitar.  Chris privately teaches students and gigs in the Metro Detroit Area. Along with playing the guitar, Chris also plays the trombone and piano.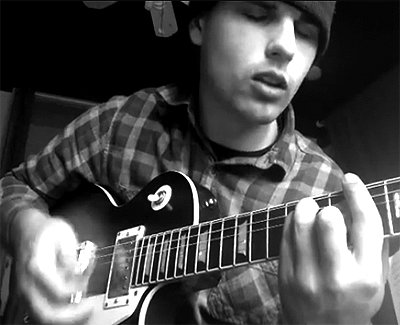 Gerard Smith (electric guitar) was born in Detroit and grew up in the Irish enclave of Emmett in the thumb of Michigan. He has played in musical groups from Detroit to Florida in many genres, including hardcore, jazz, rock and roll and Celtic folk. He has been performing solo and in Celtic folk groups for the past twenty-five years, and formed the Celtic progressive rock band Bill Grogan's Goat. Gerard sings and plays electric and acoustic guitar, electric and acoustic mandolin, bouzouki, bodhran, and some tin whistle and concertina in these projects.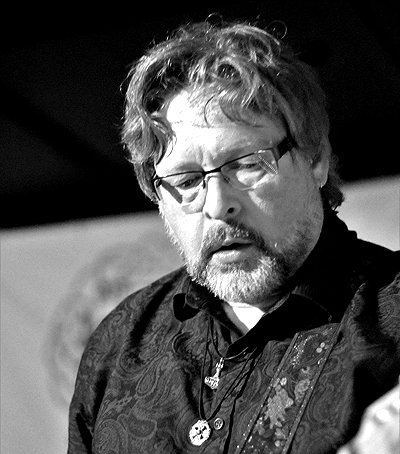 Back to Tilted Axes: Music for Mobile Electric Guitars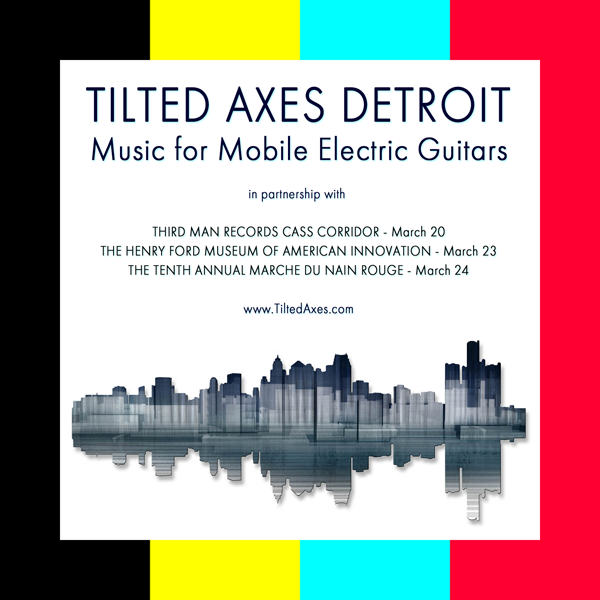 Back To TILTED AXES