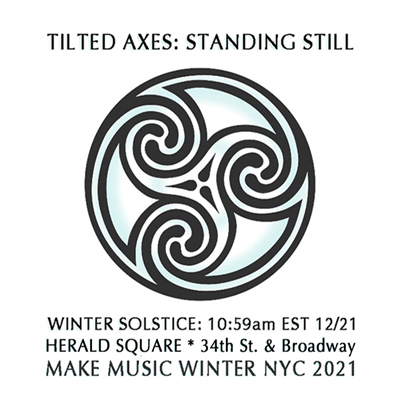 BELL RINGERS! Want to ring in the Winter Solstice with us tomorrow 12/21 in Herald Square from 10am-11:15am? No experience needed, just a sense for sonic ceremony and the unexpected! Send an email before 6pm TODAY if you want to be a part. (We have the bells) Please share!

Updated: Tuesday, December 21

Sheet Music PDF
Sheet Music PDF (opt 1)

MP3 Demo
MP3 Demo (opt 1)

Press Release

Email


NOTE: You must be registered with the group to be a part of this event.


News & Updates

3. Meet-up Info has been sent privately to registered participants. CHECK YOUR EMAIL!

2. For more experienced players, an optional PDF and MP3 of the music have been posted. It is exactly the same as the original with the exception of chords that contain extra suspended notes. Fancy! It also includes the ending Asus2 chord heard at the end of the original demo. Nothing else is changed, the form remains the same. You can play one or the other because they fit together well simultaneously. Play it if you wish, for it is optional.

1. A mini-van has been hired to serve as our mobile green room. The night before the event, you will be notified of the corner in the Herald Square area where we will meet up ca. 10am. You can store your cases, coats, and other personals inside the mini-van if you wish. We will have a quick rehearsal on that spot and then begin our performance. After the performance, the mini-van will meet us so we can get all our stuff. More details TBA.

Be sure to get a great outfit together for the event. The press has been alerted! :)

Thank you for being a part of this!